TUB LINERS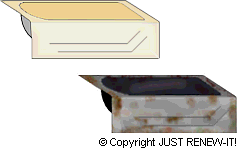 all new Bathtubs in ONE day!

Before . . . . . . . . . . . . . . . . . . . . . . . After
SHOWER LINERS
all new Showers in ONE day!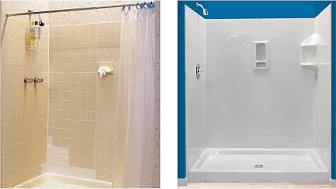 Before . . . . . . . . . . . . . . . . . . . . . . . After
JUST RENEW-IT!'s
Bathtub Liners & Wall Systems

Just Renew-It! offers HIGH QUALITY acrylic (NOT vinyl or plastic) shower installation. Further more, instead of paying one of those franchise companies close to FIVE THOUSAND DOLLARS we can install an insert for a fraction of that. It amazes me how they get away with charging so much for a one day job but they do! Acrylic systems are showing up in homes, condos, resorts, hotels, condos & apartments everywhere. With their low maintenance and extreme beauty acrylic Bathtub liners and wall systems are the wave of the future.

.

.

.

.

ADVANTAGES OVER OTHER SERVICES
Advantages Over Ceramic Tile . . .. . .
Advantages Over Reglazing
* LOW MAINTENANCE
* NO MORE MOLDY GROUT
* NO MORE REGROUTING
* NO MORE LEAKS
* NO MORE WALL DAMAGE & REPAIRS
* NO MORE SCRUBBING
* WON'T CHIP OR CRACK
* WON'T DISCOLOR OR PEEL
* SUPERIOR TO REGLAZING IN EVERY WAY!
* INSTALLS IN ONE DAY WITH NO MESS!
* LOW MAINTENANCE
* NO UGLY ODORS OR FUMES
* LAST LONGER
* LOOKS BETTER
* HIGHER GLOSS, FACTORY PERFECT
* WON'T PEEL OR DELAMINATE!
* WON'T CHIP OR CRACK!
* WON'T DISCOLOR!
* ULTRA EASY TO CLEAN!
* INSTALLS IN ONE DAY, NO MESS!
* SUPERIOR TO REGLAZING IN EVERY WAY!


.

.

.

.


THE PROCESS: When you let JUST RENEW-IT! install your shower or bathtub liner you know you are getting nothing but the best. We take no shortcuts & do the job right often getting it all done in one day with no mess & no hassles
Call for an appointment today and we will...
Step 1: We come in and take some measurements & pictures of your bathtub.
Step 2: We set-up set up an appointment and order your new tub or shower liner.
Step 3: We come in and prep the walls or tub.
Step 4: We remove your faucet handles, spout or drain and overflow plate.
Step 5: We re-measure your tub & walls and trim the system accordingly.
Step 6: We install your new shower walls and/or tub liner
Step 7: We seal your new shower and install your new drain and overflow plate.
Step 8: We clean up after our selves and we are done. Often in one day!

DONE!
The end result is a beautiful new shower often done in one day with no mess, no dust, no fumes and no hassles! Feel free to call for more information.
.
---

TUB LINERS Q & A


What is a bathtub liner?
A bathtub liner is a new heavy duty 1/4 inch thick acrylic bathtub that is custom-molded to fit right over your old bathtub. We come to your house and take a few measurements and photos of your existing bathtub. We enter these measurements into a tub identification program to determine which mold is the exact fit. Then, a sheet of high gloss acrylic is thermal-formed to your exact dimensions. The process is far superior to reglazing and wont peel, chip or discolor and will out last any reglazing job.

Can you do the same to my shower tile?
Yes, we install beautiful, clean and modern wall systems over your existing tile.

What about tile walls?
We will be happy to install an acrylic 3-wall system right over existing walls that goes from the floor to the ceiling with a bullnose on the front edge of the two side walls for a finished appearance. We finish with a 100% silicone sealant forced into the seams that is color-matched to the walls along with a mildewcide incorporated into the sealant. The end result is a beautiful, durable, high gloss, modern look.

Is it easy to clean?
Acrylic is a non-porous material that will not trap dirt, all you need is a non-abrasive cleaner like Dawn liquid dish soap and water, Scrub-Free, 409, or Fantastic Spray. Simply apply, let sit and wipe or rinse off. Cleaning has never been easier!

Why shouldn't I just rip out my old tub and put in a new cast-iron or steel one?
There are many drawbacks. First, you will end up loosing part of your old tile job since removing a tub includes tearing down several rows of tile on the wall and pulling up part of the floor tile. Also you will have to deal with a tile setter, a plumber, and the huge mess of tearing it all up. Of course you have the risk of damage with a crew of men wrestling what can be a 300+ pound cast iron tub in and out of your bathroom. End result will likely be mis matched tile on the wall or the expense of having to replace your whole shower or whole room to make it all look right. All this mess will often take a week or two with workers coming an going all day long and the loss of thousands of dollars. There is no doubt that the ease and beauty of having a high impact, high gloss, beautiful bathtub liner put in is worth it by far. Often the whole job is done in one day with NO DEMOLITION, NO DUST, NO WEEKS OF LOST WORK & NO MESS. What you get is fast reliable service, no mess and often for far less than replacing it.

Wouldn't it be easier to just reglaze it?
No, in fact reglazing is a messy and smelly job that just can't hold up as well as a new acrylic tub liner. We are a full service company and we do offer reglazing but given the option I would put a tub liner in my home any day over reglazing. This product will not crack, chip or peel and is superior to reglazing in ALL ways. Even though our glaze has fantastic 98% gloss factor there is no doubt that the shine in the acrylic surface is better, even mirror like. Since every tub & wall system is factory made by state of the art guided machinery you know you get a perfect result every time.

What are the color options?
Bathliners and shower based liners come in four solid colors: white, almond, buscuit and gray. Wall surrounds come in all four solid colors and two marbleized colors: silver/white and almond/white. We also have a simulated-tile pattern wall system in all four solid colors. We will be happy to show you samples in your home when we come out to measure your tub. NOTE: Due to the scanning process the image colors are off in shading. Example: The white is a bright white unlike what it appears here.
TUB COLORS: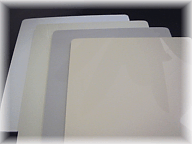 White, Buscuit, Gray & Almond
More Information
• Installs over existing bathtubs and shower bases. NO TEAR OUT OR MESS!
• Heavy Duty 1/4 inch thick DR/ABS co-extruded acrylic
• Thermal-formed at the factory from matching mold
• Non-porous, smooth and scratch resistant
• Slip-resistant bottom molded-in
• New drain and overflow cover included free
• Sealed with color-matching 100% silicone sealant
• Installed often in one day with no mess
• Will not crack, chip or peel, superior to reglazing in all ways.
• Easy to clean with non-abrasive cleaners
• Heat retention is greater than most cast-iron/steel tubs
• Nice High gloss finish
• Colors: white, almond, biscuit, & gray,
WALL SYSTEMS Q & A


Can a wall surround be installed around a window?
Yes, we custom-cut our walls to fit around the window and use color-matched molding to frame your window.
Do you offer accessories?
We offer the following matching accessories: Corner caddies, (very popular) soap dishes, tower caddies, ceiling panels, wainscoting, curved curtain rods, grab bars, and shower doors.
How long does the installation take?
The actual installation takes one day and you can use the bathtub or shower the next day.
Can I purchase just the wall surround?
If your bathtub or shower is in good shape, yes, we can simply install the wall surround alone. We can also install a bathtub liner by itself if your walls are solid and leak-free.
My tile does not go to the ceiling, do you need to stop at that height?
No, we can furr-out the top area so the walls are installed level and go to the ceiling. In fact, we encourage you to go to the ceiling as this eliminates the need to paint or wall paper. Of course, we can and the walls at any height to match your existing tile.
What Color choices do you offer in wall systems?
We have 12 beautiful colors & simulated styles including a beautiful simulated granit, marble, solid colors and a simulated tile. All granit sims and solid colors come in a beautiful high gloss finish. The simulated marble has a slightly lower gloss. NOTE: These are images of the actual acrylic samples we will show you in your home. Be aware that color shading may vary in appearance from computer monitor to computer monitor. This is just to give you an idea of what we offer. You can see the mirror like gloss in the first image of solid colors. The granit has the same high gloss.
1) SOLID COLORS: Pure White, Biscuit, Gray & Almond
2) GRANIT: Gray, Beige & White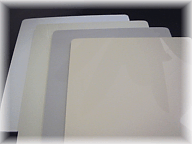 ......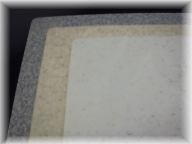 3) MARBLE: Silver/White marble &Almond/White marble
4) SIM TILE: Pure White, Marbleized Almond/White & Marbleized Silver/White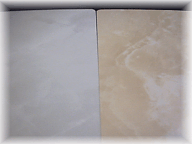 ......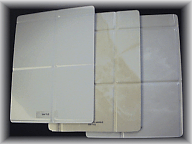 More Information
• Installed over existing walls. No need for messy demolition.
• Heavy duty 1/8 inch thick DR/ABS acrylic for walls
• Heavy duty 1/4 inch thick DR/ABS acrylic for tubs
• Floor to ceiling in height if desired
• 3-wall system is custom-fit
• Beautiful High-gloss finish on solid colors & granit sims
• 90º bend on front panels for a finished look
• Compliments a new bathliner or showerliner
• No more porous grout lines to mold up
• Easy to clean with a beautiful modern look
• Ceiling panels are available to complete your shower
• Trim kits are available for windows
• Wainscot around bath area is available
• Full system (bathliner and wall surround) in one day to two days
• Solid colors: white, almond, biscuit and gray
• One-piece walls are available
• Tile-like walls are available in solid colors
• Marbleized colors: silver/white or almond/white
ACCESSORIES

. . . . . . . . . . . .


Diamond Caddy . . . . . . . . . . . .. . Extra Tall Dish .

. . . . . . . . . . . .


. .Standard Dish .......... . . . . . . ..... Extra Wide Dish

---


Do It Yourself OR
EARN $300 to $900 A DAY!
Let us teach you how! Easy Learn At Home Training!
Get Your 100% FREE SAMPLE VIDEO HERE!



Reglazing Training Video! Learn More...



Regrouting Training Video! Learn More...



Tile Repair Training Video! Learn More...



Recaulking Training Video! Learn More...
View Sample VIDEO Clips Now!