BATHTUB REGLAZING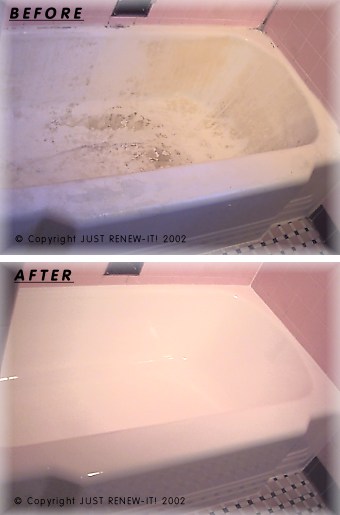 Click pictures for larger images


BATHTUB & TILE REGLAZING
---
JUST RENEW-IT!'s
Deluxe Bathtub Reglazing Package.

Just Renew-It! offers HIGH QUALITY tub & tile reglazing at below market rates. Our standard Deluxe Package provides you with the highest quality bathtub reglazing available anywhere. With every tub you get a glazed in anti-slip grip base 100% FREE. Many reglazing companies charge additional or simply don't offer this service. We not only want you to have a beautiful bathtub, we want you and your family to be safe. You also get FREE recaulking of the reglazed tub when we are done. We also fix most chips & scratches FREE, remove your overflow place, drain cover and put them back when the reglazing process is done. All this is included in our below market priced Deluxe reglazing Package.

COMMERCIAL BULK RATES ALSO AVAILABLE
THE PROCESS: When you let JUST RENEW-IT! reglaze your bathtub you know you are getting nothing but the best. We take no shortcuts and do the job right getting it all done in one day with no mess and no hassles
Step 1: Strip out the old caulk form around the tub and unscrew the overflow plate (when possible)
Step 2: Set-up our powerful negative ventilation system & chemically clean the tub and lightly sand it.
Step 3: Remove the drain cover, clean & sand the area.
Step 4: Acid etch the tub removing the old finish leaving it dull and ready to prime. This step is key!
Step 5: Repair most chips 100% free using a special patching compound.
Step 6: Sand and blend the patched areas and sterilize the entire tub.
Step 7: Mask off the entire room including the floor.
Step 8: Set-up our hot turbine air compressor & remote air supply
Step 9: Apply the chemical primer including a powerful bonding agent designed to bond to ceramic.
Step 10: Spray 2-3 coats of primer and allow it to dry.
Step 11: Tac-cloth and smooth the tub and install your free glazed in anti-slip grip base.
Step 12: Mix our 2 part top coat consisting of a catalyst & resign, let it induct & prepare to spray the top coat.
Step 13: Spray the tub giving you a total of 6+ coats leaving you with amazing like new results.
Step 14: Clean up and remove the masking and pack up our equipment.
Step 15: Caulk the tub & put back any hardware that was removed.
DONE!
The end result is a highly chemical resistant surface with an amazing 98% gloss factor. The final product is difficult to distinguish from a new tub & is ready to use the next day. See our before and after pictures for real in home examples of our work. Our TILE REGLAZING process is very much like the process described above. Feel free to call for more information.
---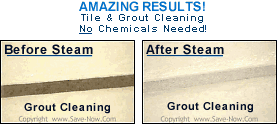 Try Steam Cleaning!
You can do it yourself OR We can do it for you!
LEARN MORE HERE!
Steam Cleaners
Steam Cleaning Works! Learn More Here.


LEARN THE BATHROOM RENEWAL BUSINESS
Check out our TRAINING PAGE here!
OR CALL...
1-(800) 490-1886
Order ALL 4 VIDEOS for one low price Here! SALE: Click Here!


REGLAZING TRAINING VIDEO
Learn to make big money in the Reglazing business!
- THIS IS OUR BEST SELLING VIDEO!
Reglazing is a massive and rapidly growing industry. This video is intended for those looking to make big money in the reglazing industry. This comprehensive video teaches you how to restore old fixtures to like new. Learn to resurface bath tubs & ceramic tile. Learn to change any bathroom color to another without removing the old tub or tile! The profit margin is huge in this high demand business. A single person can earn from $200 to $800 a day! Of course as with all services prices may vary depending on your local market place. There is a high demand for this service and a lot of money to be made offering it. Add this to your battle chest of bathroom renewal skills today. The video breaks the process down step by step and takes you through several real in home jobs. As always there are NO franchise fees, NO hidden costs or any obligation to buy anything further from us! Video runs approx. 5 hours 15 min. Available Now! NOTE: This is NOT a home owners ' do it yourself video.' This video is intended only for those looking to start their own home based reglazing business! Note: There is no need to quit your current job! you can simply work in your spare time until you decide to launch your new business. You get to call your OWN shots! Just imagine how much of a difference a few hundred extra dollars a week, just worrying weekends could make in your life! Change your life for the better. Order today!
Learn More Here...
---
WE CAN DO ANY COLOR!!!
We can match colors from most of the major paint manufactures
We recommend BENJAMIN MOORE.& SHERWIN-WILLIAMS. Others are BEHR, GLIDDEN, RALPH LAUREN & more. For paint matching simply go to any store and pick a color. Give us that color name & number and we can have our glazing mixed special. We can also match almost any fixture color. Just one of the popular manufacturers are American Standard. Just get the tub, toilet, or sink brand name and color name and we can match it for you.
MORE HERE ON
colors
Click Me!

.
From Dated Pink To Classic Bone

---


RE-GLAZING
Common Questions & Answers

Q. What is Reglazing?
A. Reglazing or bathtub or tile refinishing is a process where a competent technician carefully prepares a surface and re-coats that surface leaving you with like new results.
Q. Is there any better option than reglazing?
A. Yes, but at the same time the alterniative is considerably more expensive. As good as reglazing is there is always the possibility of future discoloration and even peeling. INTRODUCING Acrylic tub liners. Super 1/4 inch thick acrylic gives a mirror like shine that is perfect every time. It is more durable, easier to clean, it will not stain, chip, crack or peel. The advantage of reglazing is it is so much cheaper and it is also much more versatile. For those not on a tight budget try acrylic. We strongly recommend you visit our tub liner page. Visit our tub liner and wall system page here.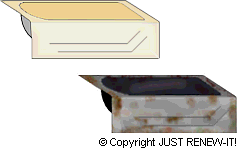 Q. Can you Reglaze &-or change the color of my Bathroom TILE?
A. Yes! You will love the results too! This is a fantastic service and with 1 to 2 days work we can transform your bathroom into a work of art. Imagine your old lime green or pink tile a gleaming white or maybe almond? Perhaps a cool blue or Antique white. Any color you can imagine we can give you. Imagine all those dirty grout lines GONE FOREVER! Forget about spending close to $10,000 tearing out your old bathroom when we can do it for only hundreds, not thousands! Let us give your tile and tub the ultimate make over!
Q. Is it guaranteed?
A. Yes! As with almost every service we offer you are 100% guaranteed against product failure in the form or peeling or deaminating! Ask for details
Q. How many colors can I pick from?
A. We have thousands of colors to pick from! Just go to your local Home Depo or local paint store and pick out a color. DO NOT BUY IT. We will have the color made up in our special high gloss glazing formula. Once you find a color you like be sure to get the paint manufacturers name, the color name & the color number if any. We highly recommend Benjamin Moore but we can match paint from many manufactures including Benjamin Moore, Sherwin Williams, Behr, Glidden, Ralph Lauren & others. SEE OUR COLORS PAGE
Q. My bathtub was reglazed by a bad 'fly by night' company and it came out poorly.
A. This is a tragedy. I hear this story often. A unsuspecting customer reads an ad and hires a "company" to reglaze their tub. A few months or a year later it starts to peel. They call that company and they are out of business or wont honor their work. Of course, often the buyer paid a great low price but if it doesn't last it is not a bargain! We have been around a long time and we take great pride in our work. We have never had a single tub peel even after the warrantee has expired. The key is preparing the tub right and not cutting corners. Also we use modern methods and a fantastic product. When you combine the proper preparation of a surface with a top of the line product & experience you get amazing results that last! Give JUST RENEW-IT! a call and let us do it right.
Q. My Bathtub was hand painted or glazed in the past, can you still reglaze my tub?
A. Absolutely! We will come in and carefully strip off the old finish and restore it providing you with a new looking tub.
Q. Will my newly reglazed bathtub be hard to clean?
A. You may find it is even easier to clean than your original tub. Just use a spray on cleaner like TILEX and let it sit for 5 min. Then simply sponge or rinse away. There is no need for an abrasive pad or scrubbing powders. Read more on protecting your reglazed surfaces here.
Q. How long does it take to dry?
A. Because of our special chemical process and hot turbine application system the surface is dry to the touch in one hour and ready to use in only 24 hrs. from the time of completion. For those looking for quicker dry time we also offer a 12 hour drying formula. This allows you to be back up and running the same day! This is great for hotels, apartments and others that need instant access.
Q. How long does it take?
A. We come in the morning and complete the process in the same day. A typical tub using some of the highest standards in the industry is often completed within 8 hours and always in the same day.
Q. Can I pay by check or Credit Card?


A, Absolutely! You can pay by check, cash, or credit card. We accept VISA, MASTER CARD & DISCOVER.
Q. Wouldn't it just be easier to replace my bathtub?
A. There are many downfalls to replacing your bathtub. First, the huge cost. Replacing a bathtub can run around $2,000. First you will need to buy a tub, often a typical inexpensive tub can be found for around $350. You also have to factor in gutting the tile around your tub in the shower and tearing up the floor tile around the base of the tub. Then you have to have a crew of men wrestle what is often a 300lb.+ cast iron tub out of the room and out of the house. It is not uncommon for serious damage causing accidents accidents to occur. You will also have to pay a plumber to remove and install all related plumbing and have a new tub dragged into the bathroom without damaging it or any other surface in the home. Once the tub is set and the plumbing is done you will have to pay a tile setter to repair the walls and floor often leaving you with mismatched tile. This new undesirable look often defeats the purpose of getting a nice new tub in the first place. Worst, all this can run over $2,000 and take a week or more. Let us restore it and you can save thousands and have it done on the same day with no mess!
Q. Wouldn't it just be easier to replace my tile?
A. Replacing a bathroom in the NY, NJ area will cost you from $6,000 to $10,000 or more. Furthermore, you will have to give up your privacy and deal with work crews. You may also have to obtain building permits, deal with town inspectors and the huge mess and headache involved with the gutting of your bathroom. Next, you will have to buy all the needed tile and decide on a style for your new room. All this can take several weeks. However with Tile REGLAZING, Tub REGLAZING, a Full REGROUTING, Tile REPAIR, or POWER-BUFFING we can make your bathroom look like new in less then a day for a fraction of the price. JUST RENEW-IT Saves you time & money!! * By the way, we do install all NEW SHOWERS for less then the others charge!
.
.
Call today and let one of our sales representatives
give you a FREE quote today!
1-(800) 490-1886


---
~ NEW ~
NEVER REGROUT AGAIN!
BEAUTIFUL ACRYLIC WALL SYSTEM
* Superior to reglazing in many ways!
* No more expensive repairs!
* Mirror like shine that lasts!
* Easier & faster to clean!
* Installed in ONE DAY!
* No more regrouting!
* No more mold!
* No more leaks!
click here for more!