BATHROOM
TILE REPAIR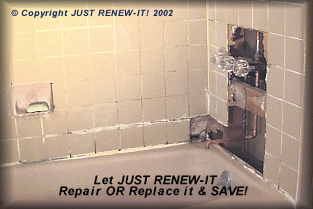 Common Questions & Answers
Learn Bathroom Tile Repair!



VIEW YOUR 100% FREE SAMPLE VIDEO HERE!

Q. What do you mean by "a repair"?
A. Most commonly we repair shower wall tile but we also replace chipped or cracked floor tile. A repair in a shower usually consists of removing a section of tile and the old wall board beneath it due to rot. After we remove the old tile and wall board we clean the beams off and install new concrete backer-board often referred to as Wonderboard. We then re-tile the section leaving you with a new looking shower ready for years of faithful service.
Before... ........................ After...


Q. Can I DO IT MYSELF?
A. Yes! We even teach you how if you like. We have a full length professional training video produced by us! It teaches you how to do a wall tile repair. This easy to understand step by step format is perfect for the professional or novice. You can save thousands doing your own tile repair. The video teaches you to repair wall tile & wall board behind the tile in showers. Learn how to tear it out and replace it. Also learn how to start your own tile repair business and earn hundreds!
Learn more here...

Q. If I want a NEW Shower can you install one for us?
A. Yes Absolutely, and we can do it for much less than others charge. When you let JUST RENEW-IT! replace your shower you know you are getting a caring, complete, professional service with a smile. Often we can give you a brand new shower in less than 3 days. Please visit our NEW INSTALLATION PAGE for more information.
Q. Is there an better & faster way?
A. Yes! Not only easier on you but in many ways faster and better. Consider our beautiful, high gloss, modern acrylic wall systems. We can come in and install your new wall system in just one day with no mess, no odors and no hassles. Never worry about regrouting and completely eliminate mold and mildew. This will give you a beautiful, easy to clean new shower that will last and last and virtually eliminate any future repairs! Visit our tub liner and wall system page here.

Q. What is this concrete backer board?
A. It is just like it sounds. It is a sheet of concrete with a fiberglass weave over it. Unlike sheetrock it will NEVER rot and will not be harmed by exposure to moisture. Our experience is that most contractors like to use sheetrock as it is easier to work with. We will NEVER use this product. Once sheetrock or greenboard gets wet it begins to weaken immediately. Over time it deteriorates to such a point that your tile can actually cave in or collapse. Concrete backer board on the other hand will handle any amount of water for an indefinitely amount of time. I always like to put it this way. You can put a piece of concrete backerboard in a swimming pool and in 5 years it will still be in great shape. Just try that with a piece of sheetrock. We use only the best and you get only the best with Just Renew-It!
Q. Will this make a big mess in my home?
A. Absolutely not. We take great care to clean-up after ourselves. The work is not that extensive and is often isolated to your bathroom.
Q. How long will this take?
A. It depends on the size of the repair. In most cases we can have your back to new in just a few hours of your time. We will have to come back the next day to grout. Once we glue the tile to the wall we have to allow it to dry over night before we can finish the job. This second part of the job, grouting the repaired section, usually only takes an hour or so. Of course, larger jobs may take a bit longer
Q. I simply want to clean my tile & grout. What do you recomend?
A. Probally the best option anywhere is steam cleaning. It does an amazing job on floor grout and has hundreds of other uses. Learn more here.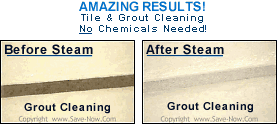 LEARN MORE HERE!
Steam Cleaners
Steam Cleaning Works! Learn More Here.

Q. Can I pay by check or Credit Card?


A, Absolutely! You can pay by check, cash, or credit card. We accept VISA, MASTER CARD & DISCOVER.
Q. Wouldn't it just be easier to replace my tile floor or wall tile?
A. There are many downfalls to replacing your bathroom or kitchen tile. First, the huge cost. Replacing a bathroom in the NY, NJ area most companies will charge you from $5,000 to $10,000 or more. Furthermore, you will have to give up your privacy and deal with work crews. You may also have to obtain building permits, deal with town inspectors and the huge mess and headache involved with the gutting of your bathroom. Next, you will have to buy all the needed tile and decide on a style for your new room. All this can take several weeks where as with a full REGROUTING, REPAIR, REGLAZING or POWER-BUFFING we can make your bathroom look like new in less then a day for a fraction of the price. JUST RENEW-IT Saves you time & money!! Remember, we also offer full shower installations.


Call today and let one of our sales representatives
give you a FREE on site price quote today!


---

Try Steam Cleaning!
You can do it yourself OR We can do it for you!
Steam Cleaners
Steam Cleaning Works! Learn More Here.

Do It Yourself OR
EARN $300 to $900 A DAY!
Let us teach you how! Easy Learn At Home Training!
Get Your 100% FREE SAMPLE VIDEO HERE!



Reglazing Training Video! Learn More...



Regrouting Training Video! Learn More...



Tile Repair Training Video! Learn More...



Recaulking Training Video! Learn More...
View Sample VIDEO Clips Now!