.
DO IT YOURSELF Recaulking KIT & VIDEO
This kit has everything you need to recaulk a typical bathtub, sink, toilet or counter top INCLUDING TOOLS, Easy Water Workable Caulk & Cleaner!!! With the skills shown in this powerful step by step professional training video you will be caulking like a pro in no time. A typical recaulking job can run well over $100! The VERY FIRST TIME You use this kit you will start saving. Do it yourself with this easy kit & video and save $100's! Fix it now and you may save thousands in unwanted repairs due to water damage in your shower. I know of no other kit & video combination like this. Everything you need is right here including over 2 hrs. of FREE VIDEO examples of caulking! See 3 tubs recaulked along with a counter top, bathroom sink, a toilet and even some minor grout repair using caulk! Start saving today! Order instantly online now or you may also order by phone for your convenience.
Full Guarantee: If any of the items arrive damaged or broken we will replace that item absolutely free. Simply return the damaged item and we will ship you out a replacement free of charge. All basic contents of packages are the same but brands, colors, sizes or shapes may vary. Every kit comes complete and ready to use!
ask a Question here
NO LONGER AVAILABLE
Introductory SALE PRICE $79 + 19.95 Shipping & Handling
ORDER BY PHONE & GET $5 OFF
Check out our DO IT YOURSELF DIY Main Page Here for more products!

.
.
.


RE-CAULKING
Common Questions & Answers
Recaulking is a very common request and as a full service company we are happy to offer it to you. No job is to small or big. It is important to maintain your bathroom showers and sinks. One leak can lead to thousands of dollars of floor damage and worse.
Q. What is caulk?
A. Caulk also calk (kôk) v. caulked also calked, caulk·ing calk·ing, caulks calks. --tr. 1. To make watertight or airtight by filling or sealing. In short caulk is the rubber or plastic like substance used to seal around windows, spigots, bath tubs and other items that need to be sealed. It is usually squeezed out of a tube in a thick liquid form. When it dries it forms a water tight barrier. There are many kinds of caulk and many different colors. Perhaps the best indoor caulk for performance and for giving you a sharp clean finish is a latex based caulk.
Q. Where should I use caulk?
A. You should caulk in areas where movement or vibrations may occur. These areas might include where tile comes in contact with the edge of a bath tub, door frame, window frame, spigots, floor joint, toilet or sink. It is VERY important to maintain the caulk around your bath tub and spigots. Water can enter from these seams and cause a great deal of damage. You should visually inspect these areas at least twice a month or take note while you shower. Any holes or opening in any shower should be attended to immediately.
Q. Why would I want to recaulk?
A. There are two primary reasons to recaulk. 1, to make water tight and seal. 2, to restore old discolored, moldy or generally unsightly caulking. A simple low cost recaulking job can often give an old shower a new clean look. Often contractors or handy-men will use the wrong caulk in you bathtub and leave a lumpy mess. When we recaulk a tub or stall shower base we leave you with a smooth tight even line insuring a water tight seal and ease of cleaning, GUARANTEED!
Q. How do I know if I need recaulking done?
A. Simply inspect your shower or bath tub. If any of the caulking around any of the following areas are cracked, shrunken, missing or moldy you should have it attended to right away. Areas of concern are around the bathtub, shower doors, shower handles (spigots), stall shower bases, around a sink, or toilet. Other reasons to replace caulking are visible signs of degradation such as mold, mildew or severe discoloration that can't be easily wiped away.
Q. What do you do when you recaulk a bathtub?
A. We are not some run of the mill handyman service. When we service your bathtub or other needs know you are getting one of the most comprehensive services available anywhere bar none! In most cases a tub recaulking includes us completely removing all the old caulking from between the tile and the tub. This means all the way around including the vertical sides and when required the floor. Once the caulk and any grout is completely removed we apply a disinfectant cleaner to the joint and buff deep in the joint to ensure it is clean. Once cleaned we cleanse and wipe the surface clean flushing out the joint and loose material. Once the joint is properly prepared and dry we then apply caulking providing you with a properly recaulked tub with a nice tight even caulk line often better then new. All the prep and cleaning is done to ensure that the caulking adheres properly to the tile edge and the tub and to give you years of trouble free service.
Q. Can I pay by check or Credit Card?


A, Absolutely! You can pay by check, cash, or credit card. We accept VISA, MASTER CARD & DISCOVER.
Q. Why not just hire a handyman or caulk it myself?
A. Most of the time when you hire a handyman to caulk a tub you get what you pay for and often that is a caulked OVER seam that peels within the year. Completely removing, cleaning, disinfecting and buffing the surfaces is critical to a secure joint. Caulk just will not stick well to hard water, soap scum, mold or mildew. Such discolorations will bleed through the caulk and in time the caulk will likely peel away from the surface. We offer a comprehensive service at great price and we GUARANTEE our work!
Q. Wouldn't it just be easier to replace my tile floor or wall tile?
A. There are many downfalls to replacing your bathroom or kitchen tile. First, the huge cost. Replacing a bathroom in the NY, NJ area will cost you from $5,000 to $10,000 or more. Furthermore, you will have to give up your privacy and deal with work crews. You may also have to obtain building permits, deal with town inspectors and the huge mess and headache involved with the gutting of your bathroom. Next, you will have to buy all the needed tile and decide on a style for your new room. All this can take several weeks where as with a full REGROUTING, REPAIR, REGLAZING or POWER-BUFFING we can make your bathroom look like new in less then a day for a fraction of the price. JUST RENEW-IT Saves you time & money!! We also INSTALL NEW SHOWERS!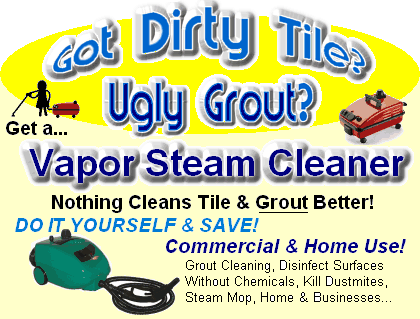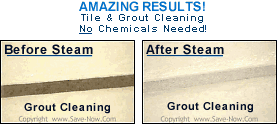 LEARN MORE HERE!
Steam Cleaners
Steam Cleaning Works! Learn More Here.

Call today and let one of our sales representatives give you a FREE on site price quote today!