In Italian, Amico means "little friend". Now you can take them, and the love of steam, wherever you go with the Vapamore MR-75 Amico. This clever hand held steam cleaner is designed to move with you as you clean and sanitize your entire home or office using Vapamore's 100% chemical-free cleaning system.

The brilliantly engineered portable steam cleaner includes the largest array of accessories and attachments on the market, more than any other hand held steam cleaner available. Versatility and power are realized in a machine that was specifically created for high performance cleaning on the move.

The VAPAmore MR-100 Primo Mid Class Residential / Home Use Dry Vapor Steam Cleaner is a
great little system with a really great price! Featuring a detachable main steam hose for easy
storage and easy replacement in the event it ever gets damaged, three extension poles allowing for
multiple reaches in various cleaning situations, an easy to use ergonomically designed steam gun
and a full set of accessories. The MR-100 Steam Cleaner comes fully loaded and ready to work right
out of the box! The system features a robust 1500 watts of heating power, 50 PSI steam pressure, a
retractable power cord, on board accessory storage and more. A great light weight simple dry vapor
steam cleaner designed for the home owner.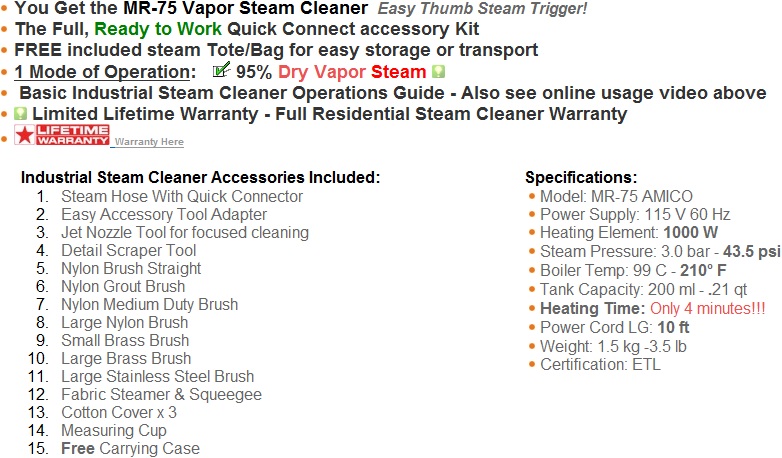 MR-75 Steam Cleaner Setup & Usage

MR-75 Hand Held Steam Cleaner For Bedbugs

Videos: MR-75 Steam Cleaner In Action
MR-75 Steam Cleaner In Use

Specifications
MR-100 Residential Vapor Steam Cleaner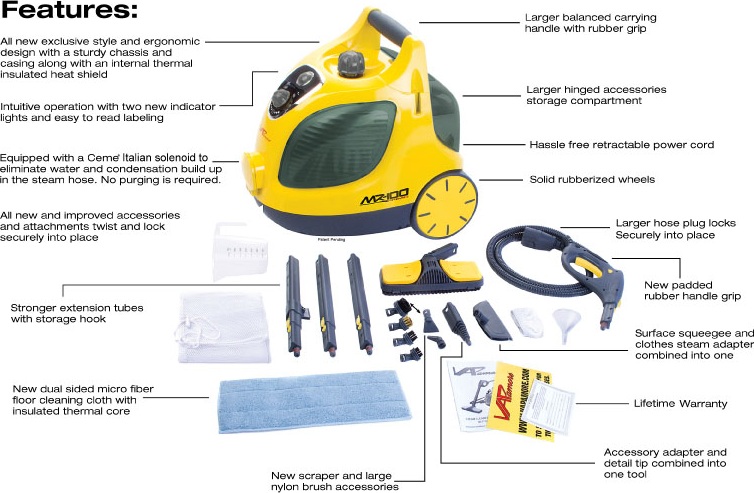 MR-100 Primo
Residential Vapor Steam Cleaner



Warranty Coverage:
1: Lifetime parts and labor on the boiler, heating element and all internal electronics.
The Vapamore MR-100 Steam Cleaning System boiler tank, heating element and all internal electronic parts are lifetime warranted to be free from defects in material and workmanship when utilized for normal household use by the original purchaser only.

2: One (1) year parts and labor on accessories and housing.
The Vapamore MR-100 Steam Cleaning System accessories and housing are warranted to be free from defects in material and workmanship for a period
of one (1) year from the date of purchase when utilized for normal household use by the original purchaser only. This does not include replacement of
items due to wear including but not limited to the Floor Brush, Nylon Brush, Grout Brush, Metal Brush, Jet tip, Clothes Steamer Cotton Cover, Floor
Brush Cotton / Micro Fiber Cover.

For this warranty to apply the original purchaser must return the warranty registration form (included in the original packaging or available online at
vapamore.com) along with a copy of the original purchase receipt to Vapamore 7464 East Tierra Buena Ln Suite 108 - Scottsdale, AZ 85260 within 15
days after the original purchase date.

Should any defect covered by the terms of this lifetime limited warranty be discovered, Vapamore will repair or replace any defective part provided the unit is returned by the original purchaser on file with the warranty form information.

The liability under this warranty is limited solely to the cost of the replacement parts or the complete unit at the discretion of Vapamore. This warranty is
void if damage is resulting from accident, misuse, improper operation, unauthorized repair or alteration, tampering, substance other than clean water
used in the boiler tank, commercial or other than home use, or damages accruing in transit. This warranty does not cover any shipping fees to or from our
facility.

This warranty is extended to the original purchaser only and excludes all other legal and / or conventional warranties. The responsibility of Vapamore, if
any is limited to the specific obligations expressly assumed by it under the terms of the lifetime limited warranty. In no event is Vapamore liable for
incidental or consequential damages of any kind whatsoever.

Customer is responsible for all shipping fees to and from our facility. Carefully pack returning items for repair to avoid damage in transit. Be sure to
include in the box all your contact information including name, phone number, email address and shipping address along with a prepaid return ship tag
from UPS or FedEx. Vapamore does not ship and will not accept items sent via USPS. Contact Vapamore at 480-951-8900 or email customersupport@vapamore.com for making arrangements to return items for repair or service. Vapamore is not responsible for any shipping cost to or from our facility.

If you have a problem with a unit simply call us and we will direct you to the nearest service center. Orders are not refundable for any reason. All sales are final. Orders outside the lower 48 United States may have an additional shipping charge. Call for more information. We ship world wide! This is not a vacuum or extraction system. It is a high quality professional vapor steam cleaner. If you have questions give us a call or you can write us here.