Mytee's FireBird VS-1500
is a great little steamer. Fully warranted for commercial use it is a great low cost alternative to our more advanced systems. Coming in at under $400 it is a lot of value for the buck. Featuring a good sized 1.5 quart single tank boiler system, a nice 1500 Watts of heating power, up to 50 PSI of pressure, dry steam output and includes the accessories. Perfect for cleaning cup holders, dash boards and other auto detail work. Also great around the home on grout cleaning, sanitizing of bedding, mopping hard floors and much more. We are glad to offer this entry level commercial unit to our customers. Thank you for reading. More below!
The Firebird™ can handle many different cleaning tasks. With the help of high-temperature steam remove stubborn dirt quickly from smooth surfaces, e.g. wall and floor tiles, high traffic surfaces areas in bathrooms and kitchens, easily remove gum from floors and even detail vehicles.
The Firebird™ comes with all sorts of attachments that make those hard to reach areas easy to clean, while at the same time, killing harmful bacteria. It's environmentally safe - no chemical is required, just plug it in and go


SOME USES FOR VAPOR STEAM CLEANERS:
* Home Use
(has hundreds of uses around the home. allergy and asthma friendly)

*
Antiques & Ceramics
(blasts off grime and restores old items)
*
Grout Cleaning Services
(Perfect for grout! Make big money restoring tile & grout)
*
Janitorial Services
(makes cleaning a pleasure. Powerful no chemical sales pitch)
*
Cleaning Services
(Add to your list of services and increase profits!)
*
Schools
(powerful cleaning solution to chemical free school policies)
*
Hospitals
(chemical free cleaning & surface disinfecting of rails, beds, bathrooms won't harm patients)
*
Restaurants
(unbelievable cleaning power cleans floors, degreases pots, pans, cleans hoods & more)
*
Hotels & Motels
(clean & restore bathrooms, lobbies, floors and save thousands in cleaners)
*
Auto-Shops
(clean & degrease parts, tools and much more without chemicals)
*
Auto-Detailers
(blast out hard to reach details, clean rims & more)
*
Car Dealerships
(keep the show room spotless)
*
Day Spas
(Kills germs on contact)
*
Office Buildings
(clean during business hours, no harmful chemicals)
*
Pools
(cleans pool rails, decks, filters, walk ways & more)
*
Reception areas
(Clean tile & grout, give customers a good first impression)
*
Dentists offices
(clean tools, chairs and more)
*
Nursing Homes
(cleans hundreds of items without toxic fumes)
*
Clean Furniture
(kill dust mites with super hot steam vapor)
*
Disinfect Bedding
(disinfect bedding without stripping the bed)
*
Electronics
(blast clean switches, circuits and more)
*
Cleans Freezers
(hot vapor melts & cleans grim so you don't have to empty & thaw freezer)
*
No Chemicals Allowed
(cleans in places chemicals are not permitted)
*
Bars & Pubs
(clean dried on spilled drinks, food. Eliminate odors and germs)
*
Veterinarians
(safely clean & disinfect cages, exam tables, no harmful fumes for animals)

The uses are unlimited. You will find yourself cleaning everything in your home or office. Order yours today!
Steam Cleaning Is Fast, Fun & Easy!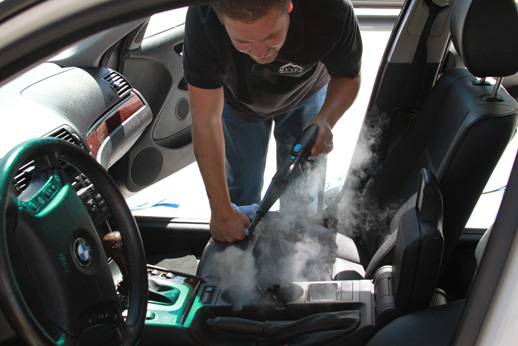 Mytee Firebird Commercial Steam Cleaner
Cleaning Tile & Grout

Out of the Box! - Mytee VS1500 Commercial
Vapor Steam Cleaner

Mytee Commercial Vapor Steam Cleaner
Automotive Detailing Steam Cleaner

VIDEOS: STEAM CLEANER IN ACTION
Mytee Firebird Introduction - About

Attachment Setup - VS1500 Light
Commercial Steam Cleaner

Specifications
VS 1500 Light Commercial Vapor Steam Cleaner