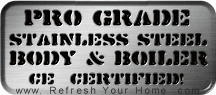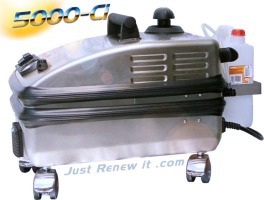 SOME COMMON USES:
*
Dry Carwash - Mobile Carwash - "waterless Carwash"
(Perfect for adding wash-n-wax solutions and steaming off grime with LOW water usage)
*
Indoor Carwash & detailing
(Done right, not a drop of water hits the floor! Perfect for cleaning in showrooms and garages)
*
Automotive Detailing
(Detailing car interiors has never been easier! Dry steam is taking over the business for a reason!)

* Home Use
(has hundreds of uses around the home. allergy and asthma friendly)

*
Antiques & Ceramics
(blasts off grime and restores old items)
*
Grout Cleaning Services
(Perfect for grout! Make big money restoring floor tile & grout)
*
Janitorial Services
(makes cleaning a pleasure. Powerful no chemical, low water usage, eco friendly sales pitch)
*
Cleaning Services
(Add to your list of services and increase profits!)
*
Schools
(powerful cleaning solution to chemical free school policies)
*
Hospitals
(chemical free cleaning & surface disinfecting of rails, beds, bathrooms won't harm patients)
*
Restaurants
(unbelievable cleaning power cleans floors, degreases pots, pans, cleans hoods & more)
*
Hotels & Motels
(clean & restore bathrooms, lobbies, floors and save thousands in cleaners)
*
Auto-Shops
(clean & degrease parts, tools and much more without chemicals)
*
Auto-Detailers
(blast out hard to reach details, clean rims & more)
*
Car Dealerships
(keep the show room spotless)
*
Day Spas
(Kills germs on contact)
*
Military
(powerful cleaning for powerful needs)
*
Health Clubs
(clean showers, locker rooms)
*
Office Buildings
(clean during business hours, no harmful chemicals)
*
Pools
(cleans pool rails, decks, filters, walk ways & more)
*
Reception areas
(Clean tile & grout, give customers a good first impression)
*
Dentists offices
(clean tools, chairs and more)
*
Nursing Homes
(cleans hundreds of items without toxic fumes)
*
Clean Furniture
(kill dust mites with super hot steam vapor)
*
Disinfect Bedding
(disinfect bedding without stripping the bed)
*
Electronics
(blast clean switches, circuits and more)
*
Cleans Freezers
(hot vapor melts & cleans grim so you don't have to empty & thaw freezer)
*
No Chemicals Allowed
(cleans in places chemicals are not permitted)
*
Bars & Pubs
(clean dried on spilled drinks, food. Eliminate odors and germs)
*
Veterinarians
(safely clean & disinfect cages, exam tables, no harmful fumes for animals)

The uses are unlimited. You will find yourself cleaning everything in your home or office. Order yours today!
Steam Cleaning Is Fast, Fun & Easy!
One of our Most Powerful 120 Volt Steam Cleaning Units! Clean old tile and grout, greasy kitchens, automotive detailing work, dry carwash, bubble gum removal, dry car wash, inject chemical detergent or hot water right into the dry steam flow with a flick of your thumb! Gun activated chemical or water injection system. A fantastic compact dry vapor industrial steam cleaning system!
VC 5000-Ci
Industrial Steam Cleaner

Now with
HOT
Detergent
/
HOT
Water
Injection
Heavy Duty Industrial Dry Vapor Steam Cleaner
The VC-5000-CI
is an amazing high powered, compact piece of industrial Steam Cleaner technology.
It is one of our factory's newer product lines first introduced in about 2007. Boasting 1,800 Watts and a hot chemical/soap or water injection system. It is based off of the VC 4000-C's legendary architecture and in many ways is very much the same in size & functionality. Features dry vapor steam and with a push of a button,
hot
chemical
or
hot
water
injection. What's new is the EXTERNAL chemical tank located in the rear of the unit.
This tank can be filled with simple tap water for hot water injected rinsing & cleaning OR you can fill it with your favorite cleaning detergent for super heated, powerful grease cutting soapy cleaning.
(Note, simple low cost Dawn liquid dish detergent diluted with water or you favorite wash and wax liquid soap works great!) Steam and hot water are both very powerful cleaning tools, but when you add a few drops of detergent it can make a very big difference in a variety of cleaning applications.
This system also features an
easy fill
dual tank boiler system. One tank is non pressurized so you can add water anytime, even while in use! This means you never have to worry about running out of steam or turning off your steamer just to refill it. Continuous fill systems save you time. Some common applications are
greasy commercial kitchen cleaning, bubble gum removal, sticker removal, commercial bathroom cleaning, floor grout cleaning, auto detail cleaning, dry steam car washing, application of zip wax after car wash and much more.
This Chemical injection systems makes it a true industry specific capable, Industrial Steam Cleaner. Comes Fully Assembled and ready to work right out of the box! Note that
all accessories are replaceable
and can be ordered right online or by phone.
The VC5000-Ci Is Maximum Power! This continuous fill vapor steam cleaner (sometimes called the VS 5000-Ci) is truly a maximum power, full commercial / industrial grade dry vapor steamer. Our 5000-Ci Elite Class Steamer features a continuous fill steam generation system with a massive 1800-WATT, 120Volt power system. When we say our 5000-Ci is maximum power we are serious. It's powerful 1800w core is indeed maxed out! How so? Because you simply can't get any more then 1800 watts out of a standard 15amp household outlet, without tripping a breaker. So when you want maximum steam power, steam generation and recovery while still being able to plug into a standard outlet, the 5000-Ci fits the bill.
What is continuous fill?
Simply put a continuous fill vapor steam cleaner has two tanks. One is a steam generation tank (boiler) and the other is the cold water refill tank. Since the refill tank is not pressurized you have to ability to add water even while working, without shutting the steamer off. Gone are the days of having to cool the steamer down before refilling it and then waiting for it to warm back up.
You can actually add water on the fly,
even while the steamer is being used
. This intuitive twin tank technology makes it all possible. Also note that when the refill tank runs low you will hear a beeping sound and see a flashing orange light on the steamers panel indicating its time to add water.
Adding water can take as little as 30 seconds
and you are back up and steaming immediately! This powerful time saving feature can save countless man hours on the job and ultimately, save you money. The 5000-Ci, shown above has its refill tank built in. That is, it is inside of the units housing. Notice the black filler cap toward the back of the steamer. This is where you add the water for the steam generation system. The white tank you see on the back of the 5000-Ci is for your
hot
chemical
or
hot
water
injection system. This chemical tank on the back is actually a third tank. All in all, the 5000-Ci is a
ultra portable
powerful commercial vapor steam cleaner!
Mobile Car / Automotive Detailing & Dry Carwash Industry:
Dry vapor steam cleaner are absolutely taking over the automotive detailing industry and for good reason too! Most auto detailers that try steam frankly go nuts for it. We constantly hear our buyers saying things like "man, I just can't imagine how I ever worked without one" or "there is no question, I will ALWAYS have one of these for my detailing business" or "man, these things are awesome detailers" or "this really worked out well, send me another for my guys". There is no shortage of enthusiasm for how remarkably well these machines perform in the detail industry. After all, dry vapor steam cleaners are the perfect detail cleaning tool be it antiques, machine parts or cup holders, seat bolts, dash boards and frankly just about the whole car. Don't forget the detergent injection system. It allows you to apply tire cleaner, car soap and more. If you are an auto detailing technician and don't have a vapor steam cleaner you are simply missing out. They save you time, money and do a far better job then past methods. They allow you to clean faster and deeper while at the same time killing odor causing bacteria, viruses, germs, mold and mildew as well as kill flees, lice, bedbugs and dust mites all during the course of normal use! Oh yeah,, did I mention it is amazing on car leather seats? Now available
HORSE HAIR
Brushes for delicate detailing work. Check out our leather seat cleaning video here.


So how about the outside of the car? The "
Dry Carwash
" industry is exploding across the globe.
All over the world the UN's agenda 21 is pushing for tighter and tighter water restrictions. This INCLUDES inside the US. Like it or not, agree or not one city after the other is passing water usage restrictions regardless of the amount of rain we get. Coming to a city near you. Frankly, we should restrict this out of control government power grab but that is another discussion.


With the VC 5000-Ci you can actually
wash the entire outside of a car without
even one drop of water hitting the ground.
This means
ZERO
water waist and
NO runoff!
This allows you to run your mobile carwash inside of a dealership, parking garage or on the street even during a drought. It uses as little as 1 gallon of water per hour of steaming, uses no fuel, has zero emissions and has a whisper quiet steam generator making the 5000-Ci a truly
environmentally friendly
vapor steam cleaning machine. By the way, add some wash and wax soap to the chemical tank and you now have a soapy mobile carwash. This vapor steam cleaner does it all,,, well almost. It is not a vacuum or extractor! But we all have one of those already right? So here it is. One of the lowest priced FULL feature vapor steam cleaners available anywhere. Check out our dry car wash section for more information on this topic and watch our dry car washing videos.
You can learn more about this unit you can watch the 4000-C Commercial Steam Cleaner video. The only difference between the two units is that the 5000-Ci has the added benefit of an external chemical/water tank with a specialized injection pump system.
.

Common Uses For This Vapor Steam Cleaner:
The VC 5000-Ci Heavy Commercial Vapor Steam Cleaner is a fantastic cleaning system for commercial kitchens, automotive detailing, dry car washing, hotels, Air Conditioner fins, heating coils, facility sanitation, bedbug removal, floor grout cleaning, hard floor mopping including hardwood, linoleum and tile. It's chemical injection system makes it great for cleaning greasy deep fryers, cooking equipment, sinks, toilets, urinals, detail cleaning in factories, printing facilities, pet shops, hospitals, doctors offices, animal clinics, auto mechanic shops, even jewelers and dentists can benefit from this amazingly versatile cleaning technology. The VC 5000-Ci's chemical injection system takes this vapor steam cleaner to a whole new level.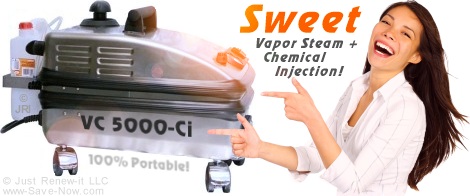 Steam in Action: Dry Carwash PT-2
© 2014 Just Renew it! LLC - All Rights Reserved

4000-C Product Features Video
Impotant: Please note that this video is NOT of the 5000-Ci. However, the 4000-C and the 5000-Ci are almost identical. The only difference is the chemical injection tank on the back and the internal injection system. All other features of the two steamers are the same. This video will give you a great overview of the 5000-Ci but will not show the chemical injection system. Please also note, the 4000-C can NOT be upgraded to chemical injection. Thank you.

Steam in Action:Commercial Kitchen Cleaning
© 2014 Just Renew it! LLC - All Rights Reserved

Dry Carwash PT-1
© 2014 Just Renew it! LLC - All Rights Reserved

Leather Seat Cleaning
© 2014 Just Renew it! LLC - All Rights Reserved

Accessories Video
© 2014 Just Renew it! LLC - All Rights Reserved

VIDEOS: INDUSTRIAL STEAM CLEANERS IN ACTION
Specifications
5000-Ci Industrial Vapor Steam Cleaner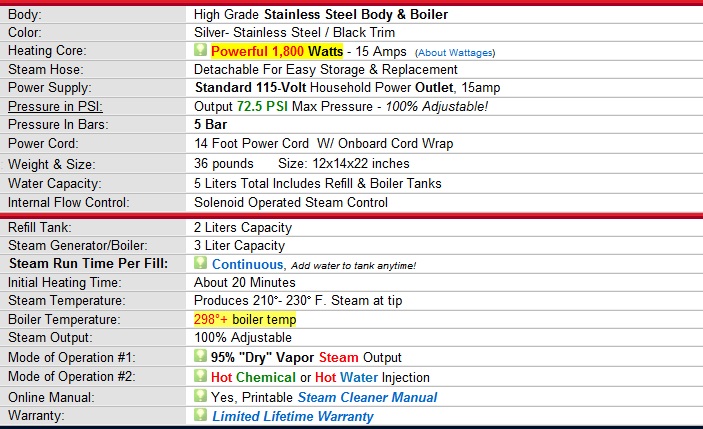 Accessories Included

• Long metal single hole jetted detail nozzle
• Short plastic single hole jetted detail nozzle
• Three Brass 1" detail brushes that fit the two single hole detail nozzles mentioned above
• Three Nylon 1" detail brushes that fit the two single hole detail nozzles mentioned above
• One approximately 3" Medium round brush for medium surfaces like counter tops, floors and sinks.
• One window steam squeegee. Great for glass, mirrors, smooth surfaces like stainless steel, ceramic & more.
• Two heavy duty insulated, stand & clean professional grade, light weight aluminum extension poles. 18" each.
• One 12 foot extra long insulated, detachable steam hose.
• Advanced Steam Control Gun built into steam hose. Allows you to activate hot chemical injection &/or steam with easy finger tip controls!
• One Large cotton floor mop / wipe cloth. Large heavy duty triangle jetted brush & and hand held steam mop with lockable swivel • head and mounted towel clips.
• Large heavy duty 11+ inch multi use steam mop head with swivel lockable head and mounted towel clips.
• Basic Operations Manual for the 4000-C Commercial Steam Cleaner
• Limited Lifetime Warranty (1 year parts & labor, 3 years parts, lifetime of the boiler) Industrial Steam Cleaner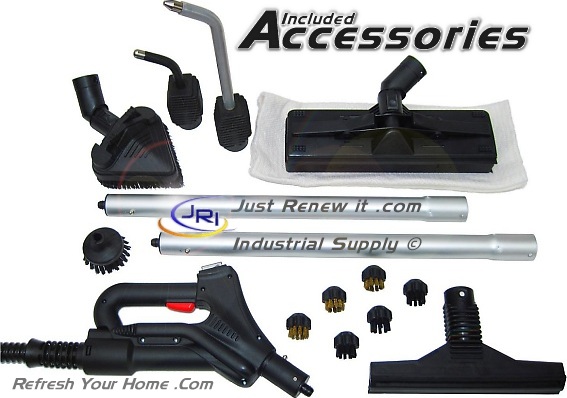 Warranty & Policies
Manufacture Lifetime Warranty
1 Year Parts & Labor | 3 Years Parts | Lifetime on Boiler
Read more about the Manufactures Warranty here. Get answers to common Questions & Answers here.


If you have a problem with a unit simply call us and we will direct you to the nearest service center. Orders are not refundable for any reason. All sales are final. Orders outside the lower 48 United States may have an additional shipping charge. Call for more information. We ship world wide! This is not a vacuum or extraction system. It is a high quality professional vapor steam cleaner. If you have questions give us a call or you can write us here.


Our Units Have Over 20 years of service & dependability In The US!
The First & Best Line Of Vapor Steam Cleaners Ever Sold In The US!
NO ONE else in the US can touch that record!
Constant improvement, upgrades & falling prices brings you these fantastic, affordable,
state of the art vapor steam cleaners. From Mom's House to the US Military, Steam Works!



The Super Vapor 6 vapor steam cleaner is truly a powerful industrial grade, commercial steam cleaning system. Many consider the Vapor 6 the Cadillac or Mercedes of 120V vapor steam machines. When you want the best in standard us outlet, 120V powered steamers, you want the V6! The Super Vapor 6 Vapor Steam Cleaners features HOT chemical injector systems (see pictures below) that allows you to spray bursts of hot cleaning solution onto the surface you are cleaning. For added ease of operation you can switch from steam to the hot chemical injection system right on the handle with the press of your thumb. You can also use the chemical injection even while steaming. Simply pulse the injector button as your steaming to get some added cleaning power. The injector is most often used with detergents. Not recommended for harsh solvents, petroleum products or other substances that may harm the rubber seals. The hot detergent injection system is highly useful with the single hole attachments. Often used during grout cleaning for stubborn spots, pre-treating or sanitizing sinks, toilets, urinals, commercial kitchen appliances, industrial equipment, bubble gum removal, and more.

The V6 also features a powerful adjustable pressure up to 90 PSI (pounds per square inch) and twin heating elements that can produce temperatures up to 240 degrees F at the nozzle tip and well over 300 degrees F in the boiler. These super high steam temperatures and powerful 90 PSI blasting power mean you can clean and sanitize surfaces on contact.

The Super Vapor 6 industrial strength, commercial steamers also INCLUDES a continuous fill feature. That is, it has two tanks, one is the boiler and one is a non pressurized refill tank. This means you will never have to stop working and cool the steamer down just to fill it. You can add water to the refill tank while you work WITHOUT stopping. Finally, true ON THE FLY refilling! A truly powerful time saving feature. The unit also has a built in boiler protection system that first alerts the user with a loud audio beeping sound to let you know the unit needs more water (Remember, you can fill the unit even while in use!). If the water is allowed to run out in the refill tank the Super Vapor 6 takes care of itself by automatically shutting down the steam flow unit more water is added to the refill tank. Never will you have to be concerned about your employees running the boiler dry and burning out your V6 due to lack of water!