VC 4000-S
FULL COMMERCIAL
Vapor Steam Cleaner
Dry Vapor Cleaning System
Grout & Tile Cleaning, Automotive detailing, vapor carwashing and more Made Easy! 100's Of Other Uses!

One of our best sellers!
The Dependable Full Commercial Industry "Work-Horse" Of Steamers

About the VC-4000-S Commercial Steam Cleaner:
The VC-4000-S has a great track record and has been an industry leader in steam technology for over a decade. A well established member of our hand picked commercial steam cleaners line, it was introduced back in 2002. The high power and extremely large, 4 liter water capacity boiler system made it second to none on the market. The 4000-S is truly high power coming in at just 200 watts below the bigger the 4000-C. Boasting 1600 Watts, it is high power. A standard 15amp outlet in a typical home only has 1800 watts available. When you want a powerful, well balanced system with a rock solid track record and a great reputation you want the 4000-S. It also comes with a large commercial 40 piece steam cleaner accessory kit - standard! With all this it is easy to see why our 4000-S Commercial Steam Cleaners are so popular. Comes Fully Assembled and ready to work right out of the box! Note that all accessories are replaceable and can be ordered here.


4000-S Steam Cleaner Features:
•
Strong 65 PSI Maximum output
•
96% Dry Vapor Steam Cleaner output!
•
Hot
Water
Injection! This feature allows you to inject super heated water in a spattering pattern to help rinse away or break up grime.
•
100% Adjustable steam flow! Just turn the knob right or left to control how fast the steam comes out. From antiques and detail work to tile and grout cleaning and auto-detail work the VC 4000-S has you covered. Lets not forget about its
•
extremely large 4 liter boiler
.
•
1600 Watt solid state single tank boiler system
. Its large size gives you up to 4 hours of non stop cleaning or about 1.5 hours non stop use on its highest setting!
•
Larger tank = Longer Run Time = More Productivity!


Why the VC4000 Vapor Steam Cleaner over the VC3000 Vapor Steam Cleaners?
The VC4000 (sometimes marketed as the VS4000) Heavy Commercial steam cleaning machine has 4 advantages over its little brother. It runs hotter then the 3000 steamer, has a water injector button to flush the work area with hot water, comes with an extra 10 brass grout cleaning brushes for a total of 30 detail brushes AND has up to a 4 hour run time before it needs to be refilled! For the commercial cleaning application this is a great choice although the VC3000 is a close second. This unit is perfect for home use and commercial use.


SOME USES:
* Home Use
(has hundreds of uses around the home. allergy and asthma friendly)

*
Antiques & Ceramics
(blasts off grime and restores old items)
*
Grout Cleaning Services
(Perfect for grout! Make big money restoring tile & grout)
*
Janitorial Services
(makes cleaning a pleasure. Powerful no chemical sales pitch)
*
Cleaning Services
(Add to your list of services and increase profits!)
*
Schools
(powerful cleaning solution to chemical free school policies)
*
Hospitals
(chemical free cleaning & surface disinfecting of rails, beds, bathrooms won't harm patients)
*
Restaurants
(unbelievable cleaning power cleans floors, degreases pots, pans, cleans hoods & more)
*
Hotels & Motels
(clean & restore bathrooms, lobbies, floors and save thousands in cleaners)
*
Auto-Shops
(clean & degrease parts, tools and much more without chemicals)
*
Auto-Detailers
(blast out hard to reach details, clean rims & more)
*
Car Dealerships
(keep the show room spotless)
*
Day Spas
(Kills germs on contact)
*
Military
(powerful cleaning for powerful needs)
*
Health Clubs
(clean showers, locker rooms)
*
Office Buildings
(clean during business hours, no harmful chemicals)
*
Pools
(cleans pool rails, decks, filters, walk ways & more)
*
Reception areas
(Clean tile & grout, give customers a good first impression)
*
Dentists offices
(clean tools, chairs and more)
*
Nursing Homes
(cleans hundreds of items without toxic fumes)
*
Clean Furniture
(kill dust mites with super hot steam vapor)
*
Disinfect Bedding
(disinfect bedding without stripping the bed)
*
Electronics
(blast clean switches, circuits and more)
*
Cleans Freezers
(hot vapor melts & cleans grim so you don't have to empty & thaw freezer)
*
No Chemicals Allowed
(cleans in places chemicals are not permitted)
*
Bars & Pubs
(clean dried on spilled drinks, food. Eliminate odors and germs)
*
Veterinarians
(safely clean & disinfect cages, exam tables, no harmful fumes for animals)

The uses are unlimited. You will find yourself cleaning everything in your home or office. Order yours today!
Steam Cleaning Is Fast, Fun & Easy!


These portable units are perfect for cleaning and disinfecting floor grout, wall grout, tile, hard wood floors, marble, ceramic, fixtures, bedding, clothes, filters, windows, counter tops, door knobs, toilets, sinks, tubs, cutting boards, cooking surfaces, linoleum, aluminum, stainless steel, acrylic, plastic, base board heater fins, decks, concrete, bricks, fireplaces, grease, stains, painted walls, kids toys, baby toys, tools, and so much more. They are great for commercial applications as well as home use. Great for use in the grout cleaning business, restaurants, hospitals, hotels, offices, auto garages, motorcycle shops (great detail tool), jewelers shops, private homes and so much more! When you want cleaning power you want one of these great professional grade machines! Not only are they powerful and have a million uses they are a pleasure to work with.

Grout cleaning is a rapidly growing industry and is a great way to make a lot of extra money with your business. If you are a home owner you save money restoring your own grout and tile let alone toilets, tubs, sinks, stoves, jewelry and so much more. You can do it yourself around the house or office! For the home owner we recommend the VC3000. It is low cost, light weight, and just right for around the house. Imagine how much money you can save if you restore your old tile and grout rather then paying to have it regrouted or replaced. For the price of having a typical shower regrouted you could own one of these steamers and use it over and over again. Contractors: Did you know that some companies specialize in just grout cleaning? It's true, that is all they do! Imagine what you can do if you combine this service with your other services. For those customers that are concerned about allergies or just don't like smelly chemicals offer them an environmentally friendly steam cleaning service! Using the power of steam you can get the job done right!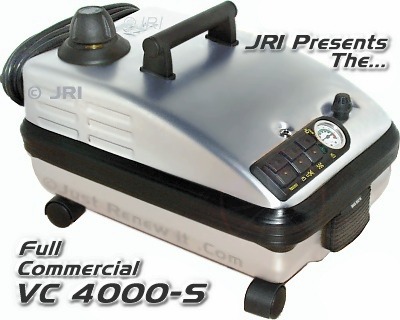 VC 4000-S: Dry Carwash PT-2
© 2014 Just Renew it! LLC - All Rights Reserved

4000-S Commercial Bathroom Cleaning
© 2014 Just Renew it! LLC - All Rights Reserved

Commercial Kitchen Cleaning
© 2014 Just Renew it! LLC - All Rights Reserved

VC 4000-S: Dry Carwash PT-1
© 2014 Just Renew it! LLC - All Rights Reserved

VC 4000-S: Leather Seat Cleaning
© 2014 Just Renew it! LLC - All Rights Reserved

Accessories Video
© 2014 Just Renew it! LLC - All Rights Reserved

VIDEOS: STEAM IN ACTION
Also Included:
40 Piece Pro Grade, Commercial Steam Cleaner Accessory Kit Included Standard:
• Long metal single hole jetted detail nozzle.
• Short plastic single hole jetted detail nozzle
• 10 Brass 1" detail brushes that fit the two single hole detail nozzles mentioned above. This brush is the softest, ideal for grout cleaning and less abrasive work.
• 10 Nylon 1" detail brushes that fit the two single hole detail nozzles mentioned above. This brush is harder then the nylon. For medium work.
• 10 Stainless Steel 1" detail brushes that fit the two single hole detail nozzles mentioned above. This brush the hardest brush and is for heavy abrasive work
• One approximately 3" Medium round brush for medium surfaces like counter tops, floors and sinks.
• One approximately 3" Medium Triangle brush for medium sized surfaces. Triangle shape designed for getting into corners easily.
• One jetted window steam squeegee. Great for glass, mirrors, smooth surfaces like stainless steel, ceramic & more.
• Two Easy stand and clean, heavy duty insulated, stand & clean professional grade, light weight aluminum extension poles. 18" each.
• One Short 9" heavy duty insulated pro grade, light weight aluminum extension pole. Perfect for short reaches or to add to the two long poles for an even longer reach.
• One 8 foot long insulated, detachable steam hose with Easy hold, fingertip trigger, Ergonomically designed steam gun.
• One Large cotton floor mop / wipe cloth.
• Easy Quick Connect & Disconnect on all hoses and attachments!
• Easy Fingertip Steam Activation on Gun
• Large heavy duty triangle jetted brush & and hand held steam mop with lockable swivel head and mounted towel clips.
• Large heavy duty 11+ inch multi use scrub brush, squeegee and steam mop head combo with swivel lockable head and built in towel clips.
• Easy read Indicator Light for low water and steam ready.
• A REAL built in Easy Read, real metal, solid state pressure gauge, not cheap plastic digital readout.
• Easy simple to use steam Flow / Pressure Adjustment knob. 100% adjustable! Works much like a common garden hose.
• Basic Operations Manual for the VC 4000-S Commercial Steam Cleaner
• Limited Lifetime Warranty (1 year parts & labor, 3 years parts, lifetime of the boiler) Commercial Steam Cleaner

Specifications
4000-S Commercial Steam Cleaner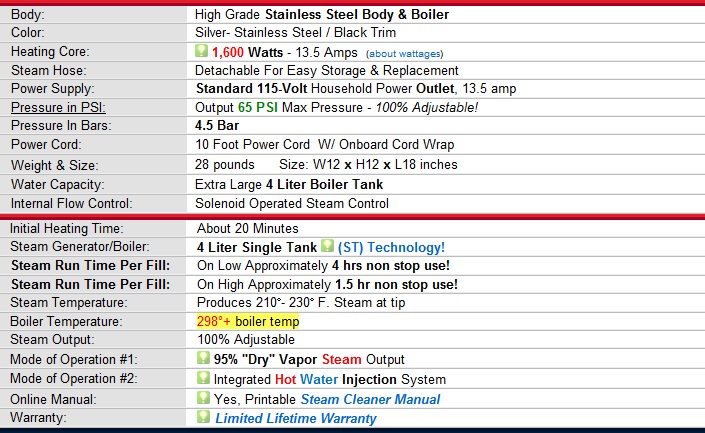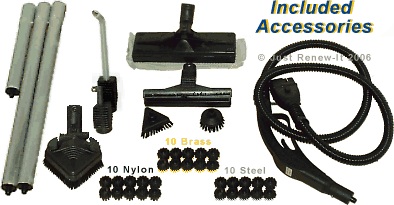 Warranty & Policies
Manufacture Lifetime Warranty
1 Year Parts & Labor | 3 Years Parts | Lifetime on Boiler
Read more about the Manufactures Warranty here. Get answers to common Questions & Answers here.


If you have a problem with a unit simply call us and we will direct you to the nearest service center. Orders are not refundable for any reason. All sales are final. Orders outside the lower 48 United States may have an additional shipping charge. Call for more information. We ship world wide! This is not a vacuum or extraction system. It is a high quality professional vapor steam cleaner. If you have questions give us a call or you can write us here.


Our Units Have Over 20 years of service & dependability In The US!
The First & Best Line Of Vapor Steam Cleaners Ever Sold In The US!
NO ONE else in the US can touch that record!
Constant improvement, upgrades & falling prices brings you these fantastic, affordable,
state of the art vapor steam cleaners. From Mom's House to the US Military, Steam Works!